How can I receive mail on my computer?
Views: 22057
19 November 2010
Setting up your account in Outlook
Initially you are given the following brief instructions:

From the command prompt, select Tools / Accounts / Mail.

On the General tab fill in your details (name and email address)

Assuming that your website is www.mysite.gr & your email is me@mysite.gr, fill in the following areas in the "Servers" tab:
- Incoming server (POP3): mail.mysite.gr
- Outgoing server (SMTP): Whatever you have been given by your provider to access the Internet (eg maigate.forthnet.gr, mailgate.otenet.gr etc.)
- Username: me@mysite.gr (your email address)
- Password: ******* (of your choice)
Detailed installation instructions for your account in Outlook
Open Outlook and choose

Tools - Account Settings [Tools - Options]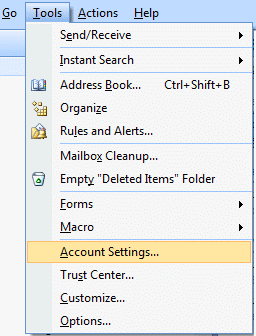 Click the "New" button and select Microsoft Exchange, POP3, IMAP, or HTTP

Ignore the fields that remain blank to be filled in and select (on the bottom of the screen) the Manually configure server settings or additional types choice.

Select

Internet E-mail

Fill in those fields which affect your account (name - email address - POP3), but you must have set mail.vdomains.gr as your incoming & outgoing mail servers and also fill in your whole email address as your user name, just like in the example.
Relative Articles